Innovation…It's More Than a Buzz Word
Tuesday, November 17, 2015
12:00 p.m. - 1:00 p.m.
Kaigham (Ken) J. Gabriel, PhD
President and CEO, The Charles Stark Draper Laboratory
Innovation has been called the rising buzzword of 2016 by Politico Magazine. It's being used to describe people, politics, products, and peanuts. Entire organizations are being called innovative. But what is the act of being "innovative"? To be innovative requires embracing risk, speed, and a focused goal.
The infusion of new technologies into our transportation systems is on the rise and increasing in pace. Such infusion introduces opportunities and risk. As just one example, GPS is already enabling fast, safe, and efficient transportation—but how do we avoid becoming so reliant on GPS that transportation is interrupted and safety is threatened?
We innovate.
Hear more from Dr. Ken Gabriel during Volpe's newest thought leadership series, Beyond Traffic 2045: Reimagining Transportation. This series will inform the ongoing national dialogue on Beyond Traffic, U.S. DOT's 30-year framework for the future.
Attend the Event
Join us via webinar or in person.
About the Speaker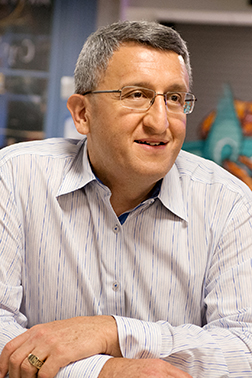 Dr. Kaigham (Ken) J. Gabriel is president and CEO of The Charles Stark Draper Laboratory, Inc., an independent not-for-profit research institution that develops innovative solutions to some of the nation's most critical problems in national security, space, biomedical systems, and energy.
Dr. Gabriel was most recently the deputy director of the Advanced Technology and Projects group at Google, which he helped establish when he joined the organization in 2012 as corporate vice president at Google/Motorola Mobility. From 2009 to 2012, Dr. Gabriel was the deputy director, and then acting director, of the Defense Advanced Research Projects Agency in the Department of Defense, where he led an agency with an annual budget of $3 billion that is charged with managing the Department's portfolio of its most cutting edge projects to both create and avoid technology surprise.
Dr. Gabriel has been a tenured professor in both the Robotics Institute and the Department of Electrical and Computer Engineering at Carnegie Mellon University, a visiting professor at the University of Tokyo, a research scientist at the Naval Research Laboratory, and a research principal investigator at AT&T Bell Laboratories.
Read more about Ken Gabriel.
About Volpe's Beyond Traffic 2045: Reimagining Transportation series:

---
What will transportation look like 10, 20, or 30 years from now? Be part of Volpe's newest speaker series—Beyond Traffic 2045: Reimagining Transportation—to delve into the trends that will transform transportation.
This series will continue the conversation started by Beyond Traffic, the U.S. Department of Transportation's (DOT) framework for a frank discussion about the shape, size, and condition of our transportation system.
Beyond Traffic 2045: Reimagining Transportation will kick off September 18 with a special video introduction from U.S. Transportation Secretary Anthony Foxx, followed by opening remarks from Gregory D. Winfree, DOT Assistant Secretary for Research and Technology.
Speakers and Dates
The following speakers will bring to Volpe their unique perspectives on how transportation will change over the coming decades:
Andrew McAfee, PhD, principal research scientist and co-founder of the Initiative on the Digital Economy at the Massachusetts Institute of Technology and co-author of The Second Machine Age
Friday, September 18, 2015
 
Edward L. Bolton Jr., assistant administrator for NextGen, Federal Aviation Administration, U.S. DOT
Wednesday, September 30, 2015
 
Donald L. Fisher, PhD, principal technical advisor, engineering research psychologist, at Volpe, U.S. DOT, and professor and former head of the Department of Mechanical and Industrial Engineering at the University of Massachusetts Amherst
Wednesday, October 7, 2015
 
John A. Cavolowsky, PhD, director of the Airspace Operations and Safety Program at the NASA Aeronautics Research Mission Directorate
Tuesday, October 20, 2015
 
John B. Heywood, PhD, professor of mechanical engineering and Sun Jae Professor, Emeritus, at the Massachusetts Institute of Technology
Thursday, November 5, 2015
 
Harry Lightsey, executive director of Global Connected Customer at General Motors
Thursday, November 12, 2015
 
Kaigham (Ken) J. Gabriel, PhD, president and CEO of The Charles Stark Draper Laboratory
Tuesday, November 17, 2015
 
Anthony Townsend, PhD, senior research scientist at New York University, fellow at the Data and Society Research Institute, and author of Smart Cities: Big Data, Civic Hackers, and the Quest for a New Utopia
Tuesday, November 24, 2015
 
Chris Urmson, director of the Self-Driving Car Program at Google
Tuesday, December 1, 2015
Complex Transportation Challenges
Our transportation system faces unprecedented challenges:
In the next 30 years, the U.S. population is expected to grow by more than 20 percent to 390 million people.
The specific transportation needs of people over age 65 will become more pressing, as that age group will increase by nearly 80 percent in the coming decades. 
Our population is shifting to the south, to the west, and to 11 megaregions that represent more than 75 percent of our population and employment.
Our economy is also growing, with some forecasts anticipating future growth rates at 115 percent. As the American economy grows, the amount of freight moving across our transportation network will increase significantly, along with the global demand for products from the U.S.
At the same time, our climate is changing. The frequency of super storms, higher temperatures, and higher sea levels will all present complex challenges.
What does a safer, more resilient, and more efficient transportation system look like? What will this mean for the nation and society?
Bring your imaginations and join us via webinar or in person for this important discussion.
Remember to regularly check our Events page and Twitter feed[external link] for updates on speakers, dates, and topics.
- See more at: http://www.volpe.dot.gov/events/reimagining-transportation-speaker-series#sthash.bCnkWjFV.dpuf